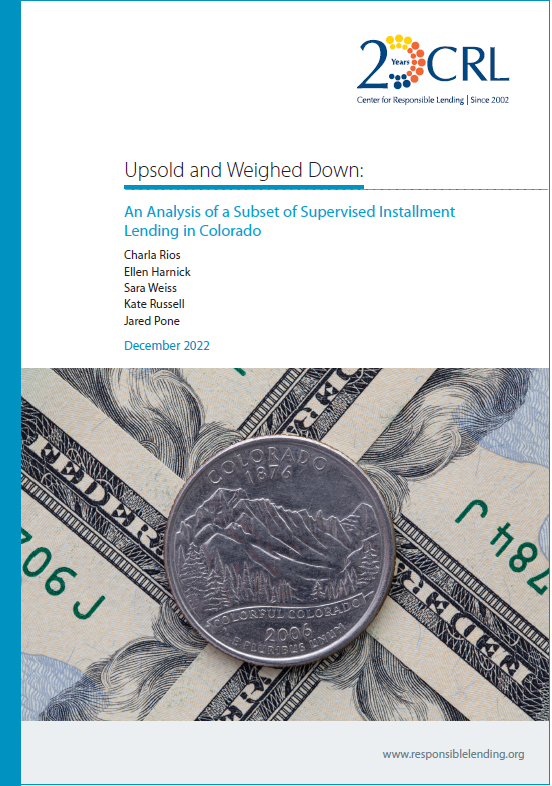 Previous research by the Center for Responsible Lending (CRL) has revealed the harms associated with high-cost installment loans, which are often marketed to subprime borrowers and have annual percentage rates of interest (APRs) in excess of 36%. This paper explores a different segment of the installment loan market: loans made by consumer finance companies with rates at or below 36% APR that have larger, longer terms and are often packed with fees for low-value, high-cost add-on products. The costs of these products are not included in the loans' APRs.
Using a sample of 67 collections cases filed in Denver County Court, this research examines loan terms and agreements that consumer finance company lenders use to better understand the practices associated with installment loans with APRs below 36%. This paper focuses on Colorado, one of the states in which consumer finance company lenders have lobbied the legislature to increase the legal limits on maximum interest rates permitted on consumer loans. The Consumer Credit Unit within the Office of the Colorado Attorney General licenses and supervises these lenders. Colorado law therefore refers to these lenders as "supervised lenders," and their products are termed "supervised loans." This study examines a subset of supervised loans that are over $1,000 and are not secured by real estate.
The findings reveal the high cost of the loans at current rates and demonstrate the importance of preventing state laws from weakening consumer protections by allowing even higher-cost loans. Instead, state laws should be strengthened to include the cost of add-on products when determining finance charge limits.
Related Content