CRL: 85 percent of survey respondents suffer negative consequences from larger, longer-term loans with triple-digit interest
WASHINGTON, DC – High-cost installment loans, taking a rising share of the lending market over the past decade, often compound borrowers' financial problems, according to new research released today by the Center for Responsible Lending.
The report, "Unsafe Harbor: The Persistent Harms of High-Cost Installment Loans," provides a rare look at the significant challenges high-cost personal installment loans create for many borrowers. These challenges include the inability to pay for basic necessities or keep up with other bills; being forced to skip medical appointments or the purchase of medication; and incurring multiple bank overdraft fees. Borrowers who struggled with repaying these high-cost loans also experienced elevated rates of wage garnishment and car repossession. These effects all worsened consumers' financial stress.
"The financial distress our participants described is quite disturbing," said Sunny Glottmann, researcher for CRL and co-author of the report. "The unaffordable terms make the loans exceedingly difficult for borrowers to repay without reborrowing or neglecting their other financial needs. The bottom line is that high-cost installment loans tend to aggravate, rather than alleviate, existing financial challenges."
Extensive research has documented the harms of predatory payday loans, which traditionally carry two-week terms and typically become long-term cycles that are associated with harms such as inability to pay bills, overdrafts, and involuntarily closed bank accounts. Some lenders have been pushing installment loans with longer terms and larger loan amounts than payday loans but with similarly high interest rates; these high-cost installment loans have grave consequences for borrowers. To understand the impact of these loans on borrowers' financial health, CRL commissioned a survey and two focus groups which collected data on borrowers who had taken out high-cost loans in 2019, 2020, or 2021.
Three out of four survey participants took out installment loans greater than $1,000, which is larger than most payday loans, and more than half reported that their loan term was longer than one year. Among surveyed borrowers, 85 percent experienced negative financial outcomes, often because their unaffordable terms led to repeated refinancing and a persistent cycle of debt. Only 11 percent reported no negative impacts.
Key findings from the research, which included quantitative and focus group data, show that:
Most borrowers refinanced their loan at least once. When coupled with the loans' longer terms, this created a harmful long-term debt cycle similar to predatory payday loans;
Unaffordable interest and fees left borrowers unable to pay other bills;
Borrowers reported lowered credit scores and delays in wealth-building activities, such as home purchases, investing, and saving.
High interest rates on installment loans dramatically increase the borrower's total costs. For example, a 200% APR on a $2,500 loan would cost the borrower $7,754 in interest and fees over two years, without reducing the $2,500 principal balance.
This chart shows the loans' exploding costs at higher interest rates: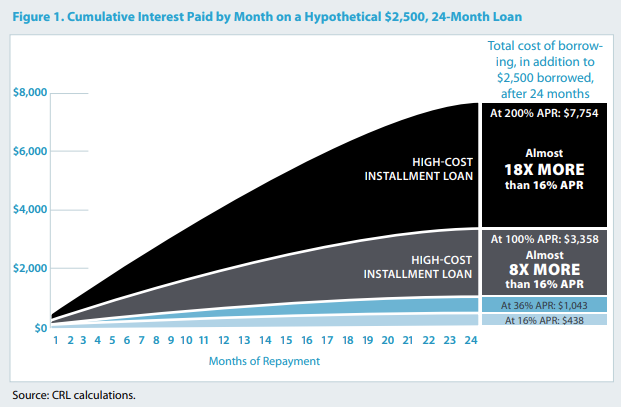 Focus group participants described their struggles in detail. One participant said his electricity was cut off more than once, and a 24-year-old woman said, "I'm probably not going to pay off that debt anytime soon, before I'm the age of 35 to 40, unless I hit the million dollar lottery or something."
"Some states have authorized high-interest installment loans in recent years, and many states have considered authorizing them, often after hearing lenders' inaccurate claims that the loans are a viable alternative to traditional payday lending," said Yasmin Farahi, senior policy counsel for CRL. "But this is far from responsible lending and simply amounts to another way to drain dollars from struggling consumers through predatory debt traps. Strong interest rate caps, with lower caps for larger principals, are essential to prevent the harms of this type of loan."
The report comes on the heels of a petition from CRL and the Consumer Bankers Association to the Consumer Financial Protection Bureau (CFPB) urging the agency to supervise the larger non-bank companies issuing and servicing personal loans, including this type of high-cost installment lending.
Download CRL's new report, "Unsafe Harbor: The Persistent Harms of High-Cost Installment Loans."
###
Press Contact: Carol Parish carol.parish@responsiblelending.org
Related Content