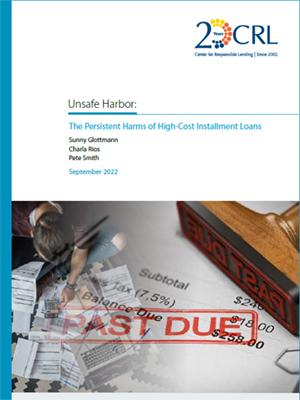 Over the past decade, the high-cost small-dollar loan market, once dominated by short-term balloon payment payday loans, has seen the rise of high-cost installment loans with longer terms. Payday loans are typically repaid in a lump-sum, usually due in 14-day periods. Installment loans tend to be larger in size and repaid in several installments, typically over a period of several months.
Although they are repaid in installment terms, these loans share similar characteristics with other payday and car-title loans: a lack of underwriting; access to a borrower's bank account or car as security; structures that make it difficult for borrowers to make progress repaying; excessive rates and fees; and a tendency toward loan-flipping or stressed re-borrowing. Many of these loans are problematic even without repeated re-borrowing. The fundamental harm is that these lenders make loans that borrowers cannot afford to repay, regardless of whether the loan is structured as an installment or balloon payment loan.
Although there is extensive research demonstrating payday loans' impact on consumers, little research exists regarding the impact of high-cost installment loans on consumers' financial health. To this end, the Center for Responsible Lending (CRL) conducted a survey and two focus groups with high-cost installment loan borrowers to better understand the effects of these loans on personal finances. This brief is the first of a series of published research that will study the harms of high-cost installment loans and the steps policymakers and regulators can take to protect consumers from these harms. We defined high-cost installment loans as follows for the purposes of this study: having terms of two months or more; having an all-in annual percentage rate (APR) greater than 36%; and being unsecured by any collateral, except access to the borrower's bank account or borrower's car title (in the case of car-title installment loans). Although some states have passed legislation placing interest rate caps on loans, installment lenders are permitted to charge triple-digit interest rates in some states.
Key findings derived from primary data collected from polling data and focus groups are:
Unfavorable high-cost installment loan terms led most loans to be refinanced at least once. For the sizable share of borrowers surveyed who missed or made late payments on their loan, the consequences were severe.
The burden of repaying high-cost loans often caused borrowers to miss payments on other obligations, resulting in additional debt or a larger financial deficit—aggravating, rather than alleviating, preexisting financial challenges.
Borrowers understood that these loans hurt their credit scores and delayed wealth-building activities such as purchasing a home or car, investing in a business, or saving for retirement, but circumstances led them to believe they had no other option for meeting short-term financial needs.
Related Content