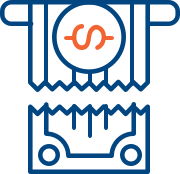 Excessive overdraft fees charged by banks and credit unions can cause devastation for financially vulnerable families. Many lenders used predatory policies and practices designed to repeatedly extract excessive fees from customers who could least afford them. Overdraft fees are a leading cause of financial institutions closing a consumer's account and reentry into the banking system often is exceedingly difficult, increasing the financial insecurity of many consumers. CRL advocates for legislators and regulators to rein in the size and frequency of these fees. We estimate that the savings from these fee eliminations will be between $3 billion to $4 billion for working families.
Filter Results
Read the executive summary (pdf) >> Unfair bank practices threaten to shred the safety net of Social Security for older Americans New CRL research finds that unauthorized overdrafts strip fees from Americans 55 and older at the level of $4.5 billion per year. Nearly $1 billion of that comes from people who are heavily dependent on Social Security income. CRL's June 18, 2008 report also finds that debit cards are the most frequent trigger for overdrafts even for people 55 and older – these debit card overdrafts are both extremely costly and easy to prevent if the banks were interested in...
In May 2008, the Federal Reserve Board, the Office of Thrift Supervision, and the National Credit Union Administration issued a joint proposed rule governing overdrafts. The rule would allow financial institutions to continue giving customers expensive loans even though they never asked for them. Research shows that the vast majority of bank customers are automatically signed up to receive costly overdraft loans, but would rather transactions be declined if they don't have sufficient funds in their bank account. But the regulators' proposed rule puts the burden on consumers to unsubscribe if...
A new CRL survey finds respondents prefer that their bank or credit union deny debit card purchases that are not covered by the funds in their checking account, whether their purchase is for $5, $20 or $40. More consumers are enrolled in the most expensive option than any other option for covering overdrafts, the survey also finds.
OVERDRAFT LOAN = HIGH-COST NO-CHOICE CREDIT Protection? More like small loans with abusive terms. Banks and credit unions now enroll many of their account holders into the most expensive option for covering overdrafts—an option customers generally don't want and didn't ask for—and leave them without the information they need to protect their funds. Under these systems, financial institutions routinely approve uncovered transactions without warning their customers of a deficit in their accounts, and charge an average $34 fee for each incident, even when the uncovered purchase amounts to just a...
As two trends collide—increasing use of debit cards among young adults and increasing use of abusive overdraft practices among major banks—college students and young workers just starting their adult lives are paying a high price. At least one hundred universities are contributing to this problem by selecting a single bank and granting them exclusive marketing privileges on campus. Such an arrangement might, for example, involve providing students with an official identification card that doubles as a debit card backed by the university's partner bank. When the partner bank uses abusive...