Income and employment opportunities are important for wealth-building and financial well-being, and a college education is critical in today's competitive job market. But post-secondary education has never been more expensive, and most U.S. families rely on student loans to help finance a college education. In the U.S., total student loan debt now exceeds $1 trillion and nearly one in five households has a student loan.
This chapter discusses key differences between federal and higher-cost private student loans, and recent and rapid increases in student defaults driven primarily by loans to students at for-profit colleges. It also describes challenges in making financing options clearer to students and parents.
---
CRL Senior Researcher Sonia Garrison covers the key findings of the "Student Loans" chapter in State of Lending.
---
Figuring out how to pay for college can be difficult. In this video, Andrea Harris (President of the NC Institute of Minority Economic Development) discusses three important things that parents and student should remember when looking for financial aid or student loans.
---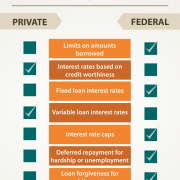 Student loans can help you pay for college, but they're not all alike. This infographic shows the different features of federal vs. private loans.
---
Related Content