In spite of regulatory changes in recent years, many banks and credit unions continue to charge abusive fees on debit cards and checking accounts. In "High-Cost Overdraft Practices," CRL discusses these findings:
In 2011, overdraft fees cost consumers $16.7 billion.
Debit card transactions trigger the most expensive fees.
On debit card purchases, the median overdraft charge is $35 for a $20 overdraft.
Debit card purchases and ATM transactions account for at least 35% of all overdraft fees.
Two-thirds of these penalty fees are paid by account holders charged more than six fees per year.
Banks continue to manipulate the order of consumers' transactions in order to charge more fees.
Taken together, these findings show that recent reforms have not gone far enough to stop abusive overdraft practices. This chapter reviews the impact of these fees on U.S. households, noting that communities of color, seniors, young adults, and military families have been hit particularly hard.
---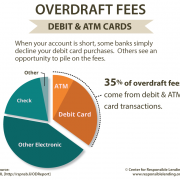 Some banks choose to simply decline debit and ATM card transactions that would overdraw an account - but other banks exploit them as an opportunity for profit. See how this abusive practice causes more than a third of overdraft fees.
---
Related Content