Even in the face of strong opposition by banking regulators, a few banks continue to make triple-digit payday loans. In this chapter, our analysis shows no meaningful distinction between storefront payday lending and bank payday lending. Banks give their products names such as "Ready Advance" and "Early Access," but these loans come with the same predatory features and produce the same negative outcomes for borrowers.
Bank payday loans carry an annual percentage rate (APR) that averages 225 to 300 percent.
In 2011, the median borrower took out 13.5 loans, with over 1/3 of borrowers taking out more than 20.
Bank payday borrowers are two times more likely to incur overdraft fees than bank customers as a whole.
Over 1/4 of all bank payday borrowers are Social Security recipients.
This chapter surveys the latest research on bank payday lending, the impact on American households, and recent legislative and regulatory actions addressing these loans.
---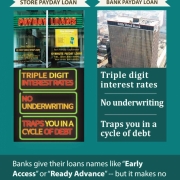 Do you think you're better off getting a payday loan from a bank? Think again.
---
Older Americans on Social Security are particularly attractive to payday lenders. Watch this Congressional testimony from a 69-year-old woman who paid nearly $3,000 for a $550 payday loan from her bank.
---
Related Content