Automobiles are one of the largest purchases most American households will make. Car ownership affects where people can live and expands their options for jobs. So the affordability and sustainability of auto financing can have a big impact on many U.S. households.
Purchasing a car is a complicated endeavor, and the sales price, trade-in value, and financing can all have a big impact on the vehicle's overall cost. In this chapter, CRL describes how the lack of transparency and regulation in auto finance has allowed predatory practices to thrive.
---
CRL Senior Researcher Delvin Davis covers the key findings in the "Auto Loans" chapter of State of Lending.
---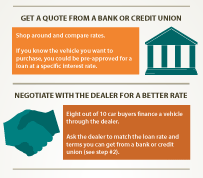 When buying a car, you may spend hours doing research on prices, but make sure the vehicle financing is a good deal too! Use this infographic as a guide to your auto loan options.
---
Related Content