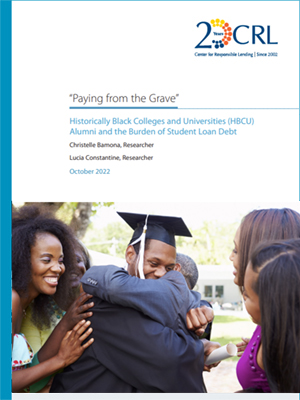 More than 44 million people in the United States—roughly one in six adults—collectively hold more than $1.6 trillion in federal student loan debt. Although many Americans are burdened by their student loan debt, borrowers who attended Historically Black Colleges and Universities (HBCUs) have been especially hard hit, due to the impacts of systemic racism on wealth accumulation for families and unequal resource distribution among institutions. Carrying student debt makes it difficult for many HBCU graduates to engage in wealth-building activities like purchasing a home or investing for retirement, breaking the promise of a college degree as an "equalizer."
Extensive research documents the disproportionate impact of student loan debt on Black borrowers, and this debt has been demonstrated to exacerbate the racial wealth gap. In 2021, CRL produced a research paper and documentary that illuminated the heavy debt burdens and financial struggles of Black graduates of HBCUs. This report details additional insights regarding the experiences of HBCU graduates with different student loan repayment programs and student loan servicers. Additionally, this new research analyzes the impact of the payment pause on federal student loans on HBCU alumni's financial circumstances.
Key findings derived from focus group data, polling data, and publicly available data sources:
Skyrocketing college costs and historic underfunding of HBCUs force a disproportionate share of low-income and first-generation students to take on a huge student debt burden.
Student debt limits career choices and complicates homeownership for HBCU alumni, which contributes to the racial wealth gap.
Student loan repayment program rules and unresponsive servicers are unnecessarily confusing and challenging to navigate.
The pause on student loan payments has provided much-needed relief to borrowers, and ending it will create additional challenges.
Related Content