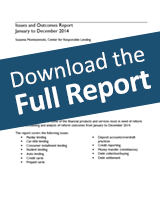 In a new report, the Center for Responsible Lending – along with Americans for Financial Reform – examines the impact of advocacy efforts of policy and regulation.
The report take stock of both gains (actions that support or defend consumer protections) and losses (actions that jeopardize or reduce consumer protections) – specifically in the following areas:
Federal legislation
State legislation
Federal regulatory actions
Federal judicial actions
State regulatory actions
State judicial actions
Industry practices
In addition, the report takes stock of efforts that have yet to yield specific outcomes – whether good or bad. The report aims to improve the understanding of advocates and to point the way forward for organizations developing strategies to ensure all people have access to fair and affordable financial services.
Some of the major observations of this year's report are:
Federal regulators actively promoted consumer protections by writing rules and guidance, bringing enforcement actions, and documenting various abuses through reports and public forums. We identified and rated nearly 200 outcomes, and approximately 75% involved federal regulators. The CFPB led Federal regulators, nearly half of the outcomes in the report involve the CFPB.
State legislatures were active in proposing and passing bills that both added protections and took away existing protections, but most of these bills were not enacted. Seven new state laws increased consumer protections and 2 new state laws removed protections for consumers (debt collection bills in NC and WV).
State regulators acted to increase consumer protections, largely in the form of enforcement actions.
Some lenders/providers of financial products and services improved their practices, often spurred by regulatory activity.
Notable court rulings in the year upheld consumer protection laws. These outcome highlight the important role of this step in the judicial process.
For questions about this report, please contact Sarah Wolff, senior researcher, at sarah.wolff@responsiblelending.org.
Related Content