The Center for Responsible Lending (CRL) works to ensure a fair, inclusive financial marketplace that creates opportunities for all credit-worthy borrowers, regardless of their income, because too many hard-working people are deceived by dishonest and harmful practices.
CRL's work focuses on those who may be marginalized or underserved by the existing financial marketplace, or in many cases, people who are targeted for unfair and abusive financial products that leave them worse off. This includes people of color, women, rural residents and low-wealth families and communities.
Bringing Values-Based Market Experience to the Pursuit of Meaningful Policy Reform
CRL's doors opened in 2002 in direct response to the threat to financial opportunities for underserved and low-income communities in North Carolina and alarm about growing efforts to drain funds from people who were working hard to save and get ahead.
Launched by Self-Help (a Durham NC-based community development lender since 1980), CRL values the core principle that common-sense terms enable borrowers to repay their loans, build up financial security, and foster community stability. Conversely, many lenders in the late 1990s pushed egregious loans designed to strip hard-earned home equity and destroy neighborhoods. These loans threatened to undo investment in basic wealth-building strategies.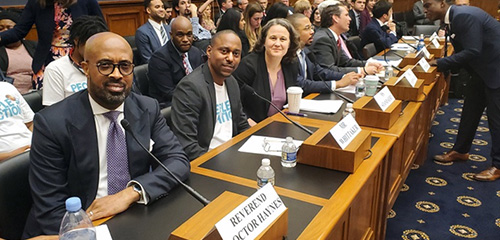 Our winning NC policy strategy to curb predatory lending influenced policies adopted by other states and, after the 2008 economic collapse, informed the creation of 2010 Dodd-Frank Wall Street Reform and Consumer Protection Act. We have assumed a lead position in the fight to end the economic distress caused by payday and car title loans, and the crippling debt they and other unfair practices cause. Additionally, we must increase homeownership among people of color and low-to moderate income families as federal housing finance measures are discussed and fair lending laws are under attack. Finally, we see student loans as a tool that can help individuals access better paying jobs, but also have seen too many cases where such loans leave students further behind and lacking financial security.
We Win When Our Partners, Allies, and Wronged Borrowers Win
The tricks and traps set by bad lenders that routinely target those Americans who cannot access fair credit concern a broad-based and growing movement for change. Since our early days in NC, we knew we could not achieve consumer safeguards alone and a coalition was essential for authentic reform. We opened offices in Washington, DC and Oakland, CA to ensure broader attention to the issues and to be available in local areas to partner with groups providing direct service to the people impacted by predatory lending.
The stakes are much higher now. Lack of traditional banks in low-wealth communities and subsequent use of fringe lenders that intentionally target these very communities, can lead to months and years of financial obligations and even result in intergenerational debt burdens.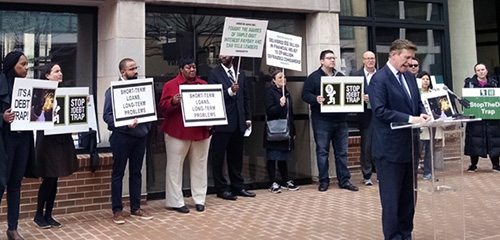 We lead a network that spans state and national levels and includes grassroots groups, faith leaders, consumer and civil rights organizations, like-minded financial institutions, and responsible industry players. Most importantly, we strive for trust among communities directly affected by predatory lenders – students, seniors, women, military personnel, immigrants, and communities of color—to create successful coalitions that bring sustainable reforms.
Unique Experience Qualifies Us to Advance the Economic Justice Movement
Our commitment to high quality research and data-driven findings inform the consumer protection field and bolster our partners' efforts.
Our ability to communicate complex issues that engage both policymakers and the general public is essential to successful mobilization that results in policy change.
Our motivation to close the racial wealth gap is rooted in our North Carolina experience–convening coalition participants of varied interests that unite to fight predatory lending.
Our affiliation with Self-Help and its longstanding experience with lending positions us as an honest broker in any negotiation which leads to smart and reality-based policy solutions.
How to Support CRL's Work
The need for smart, effective consumer financial protections has never been greater, and CRL is committed to the fight. While we have had significant success in the past 18 years, none of CRL's campaigns are executed in isolation. We achieve consumer gains through our work with policymakers of all political stripes, community advocates, state and federal regulators, lenders, and everyday citizens.
Here's how you can join us in the fight against predatory lending:
Individual Donations
Consider making a financial contribution to help CRL in its work. Your support will allow us to continue the fight against predatory lending. CRL is a non-profit, tax-exempt, 501(c)(3) organization. Donations are tax-deductible.

Grants & Awards
If you are a grantmaking organization or interested in making a cy pres award, please contact us with questions and for more information.