Explore the risks and challenges of the fair housing movement and then return to learn more about the two leaders that shared this goal.
GSE Reform
A draft Senate legislative proposal to overhaul the secondary mortgage market's government-sponsored enterprises (GSEs), Fannie Mae and Freddie Mac, would drop important access and affordability provisions that now govern the system. For example, the GSEs are currently required to always serve all markets, including underserved rural and urban communities, they also have fully enforceable affordable housing goals.
The draft proposal from U.S. Senators Bob Corker (TN) and Mark Warner (VA) is opposed by a broad coalition of civil rights and housing advocates that include: the National Urban League, Leadership Conference on Civil and Human Rights, Lawyers' Committee for Civil Rights Under Law, NAACP, UnidosUS (formerly the National Council of La Raza), National Coalition for Asian Pacific American Community Development, National Fair Housing Alliance, National Community Reinvestment Coalition, and the Center for Responsible Lending (CRL).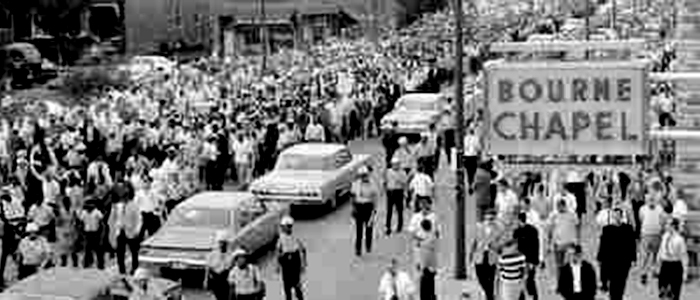 Protest March in Marquette Park Neighborhood of Chicago (BlackPast.org)
Affirmatively Furthering Fair Housing
The Fair Housing Act of 1968 requires the Department of Housing and Urban Development (HUD) to affirmatively further fair housing to dismantle residential segregation and ensure inclusive communities nationwide. HUD finalized its Affirmatively Furthering Fair Housing (AFFH) Rule. Sadly, HUD effectively suspended its 2015 Affirmatively Furthering Fair Housing rule in 2018. The AFFH rule requires certain HUD grantees to conduct an Assessment of Fair Housing planning process. This process is intended to help communities analyze challenges to fair housing choice and establish their own goals and priorities to address fair housing barriers in their community.
Fair Lending Enforcement
The Dodd-Frank Act mandates that the Consumer Financial Protection Bureau's Office of Fair Lending and Equal Opportunity (OFLEO) perform "oversight and enforcement of federal laws to ensure the fair, equitable, and nondiscriminatory access to credit." Despite this statutory mandate, the Acting Director of the CFPB plans to move their office directly under his control. Housing and civil rights advocates have concerns that OFLEO will not be able to perform its enforcement and oversight mission.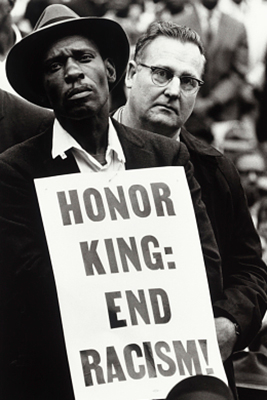 A sign in the crowd of people mourning Dr. King in Memphis in1968. (Collection of the Smithsonian National Museum of African American History and Culture)
The current Administration's Justice Department or the CFPB have yet to sue a single mortgage lender for racial discrimination. Yet in the first three months of 2018, multiple lawsuits were filed and alleged discrimination by:
Fair Lending Reporting
The Home Mortgage Disclosure Act (HMDA) is a federal law that requires most financial institutions to report mortgage data to the public. It ensures that mortgage lenders are serving the credit needs of communities in which they are located. The annual HMDA report is the only comprehensive one that enables a comparison of private mortgage lending compared to that of government-backed mortgages like FHA, VA and USDA.
This report is also unique for its tracking of mortgage lending and denials by race and ethnicity. This unique feature enables policymakers to discern discriminatory trends. CRL's most recent analysis of HMDA revealed:
Consumers of color and low-wealth families still lack access to the most affordable loans, conventional mortgage loans.
These same consumers are also disproportionately represented in government-sponsored loans like VA and FHA that cost more due to related fees.
Non-banks are making more mortgage loans than banks. Non-bank lenders are excluded from data collection required by the Community Reinvestment Act.
The time is always right, to do what's right.
Dr. Martin Luther King, Jr., 1965 Oberlin College commencement address