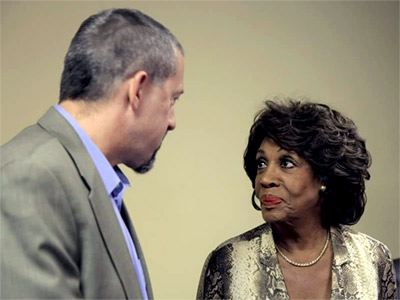 CRL California Director Paul Leonard and California Representative Maxine Waters.
Center for Responsible Lending (CRL) staff and consumer advocates based in Los Angeles gathered on October 10 to spotlight the threat posed by Predatory Payday Lending. A CRL analysis showing payday lenders rely on repeat borrowers to generate 76% of their revenue was released in advance of the meeting. The report contradicts the industry's public claim that its loans are only used as a one-time, quick fix by consumers facing a cash crunch.
House Financial Services Committee Ranking Member Rep. Maxine Waters, Los Angeles City Attorney Mike Feuer and L.A. County Federation of Labor Executive Secretary-Treasurer María Elena Durazo spoke at the event.
"In Sept 2013, the Department of Defense and the CFPB worked together to announce new rules for payday loans for service members that capped interest rates, banned payday lenders from rolling over old payday loans, unless the new terms are more favorable, and prevented payday lenders from automatically deducting loan repayments from service members bank accounts," Rep. Waters said. "The next step of course is to propose regulations to create rules for all borrowers that will police the payday industry in a manner similar to its payday rulemaking for military borrowers."
The CRL analysis of two new reports on the payday lending industry from the California Department of Business Oversight (DBO) comes as the Consumer Financial Protection Bureau (CFPB) is considering new rules aimed at curtailing abuses in the payday lending industry. The Department of Defense also recently proposed new rules to further protect service members under the Military Lending Act, and Members of Congress have introduced a bill to cap interest rates on consumer credit products at 36%.
California, payday loans can have an annual interest rate of 459%. According to CRL's analysis, almost 800,000 Californians were stuck in 7 or more repeat payday loans last year. Californians paid $578 million in fees on payday loans.
"Our analysis shows that payday loans are a debt trap scam," Paul Leonard, California Director of CRL, said. "Contrary to the industry's claims that payday loans function as a one-time quick fix, the data proves these loans are designed to sink borrowers into debt they cannot escape. These loans destroy the financial future of individuals and cause lasting harm in our communities. By scamming Californian's out of $578 million a year that would otherwise be spent in stores and small businesses, the payday lending industry creates a significant drag on our state's economy."
CRL and other consumer advocates have been pushing for action from policymakers at the federal and state level to protect consumers from predatory payday lending. The California state legislature, Congress and the CFPB could all take steps to curtail abuses in the industry. CRL favors a 36% interest rate cap, requiring that payday lenders determine a borrower's ability to repay looking at both income and expenses, and setting strict limitations on the amount of time a borrower can be trapped in unaffordable payday loan debt.
PDF Link: CRL analysis on the two new payday lending industry reports
For more information, or to arrange an interview with a CRL spokesperson on this issue, please contact Andrew High at Andrew.High@responsiblelending.org or 919-313-8533.