Investigation uncovered that white borrowers with weaker credit profiles received less expensive financing and more favorable treatment than their non-white counterparts who were more financially qualified.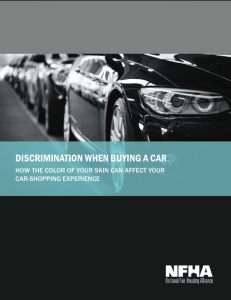 WASHINGTON, D.C. – Today, the National Fair Housing Alliance (NFHA) released an investigative report detailing the ongoing racially discriminatory practices that exist in the auto lending market. In their findings, NFHA uncovered that more than half the time white borrowers with weaker credit profiles received less expensive financing options and more favorable treatment than their non-white counterparts who were more financially qualified. The report comes off the heels of recent calls to roll back the Consumer Financial Protection Bureau's (CFPB) 2013 indirect auto lending guidance. This important guidance is a key step to limit discriminatory impact of dealer interest rate markups in the auto lending industry.
Through their investigation, NFHA sent eight pairs of testers, one white and one non-white, to car dealerships in the Commonwealth of Virginia to inquire about purchasing the same vehicle. Testers are like secret shoppers, and they are instructed to inquire after the same product and then document what they are told and observe. The individual tester pairs were similarly situated and matched in nearly every way with the exception that the non-white tester was always more financially qualified than the white tester. While all customers received some level of undesirable treatment, non-white testers received considerably worse treatment and were significantly more likely to receive a higher quote for the financing of the exact same vehicle, despite being better qualified. [Key facts available below.]
Download a executive summary of the study. 
A group of civil rights and economic justice organizations released the following statements:
"This report is disheartening but not surprising. Years of data show that unfair, racially discriminatory treatment of consumers is a growing problem in the auto lending industry. This is especially true for low-income families of color, where a car is often one of the biggest purchases made by a household. NFHA's investigation is timely and underscores the need to maintain strong anti-discriminatory protections and enforcement, including the Consumer Bureau's indirect auto lending guidance that addresses discriminatory pricing in the auto financing market. We commend NFHA for their incredible work and urge lawmakers at the state and federal level to use their power to fight against this type of unlawful discrimination and financial abuse," said Mike Calhoun, President, Center for Responsible Lending.

"NFHA's investigation provides yet more evidence – and simple enough that anyone should be able to comprehend it – of what civil rights and consumer advocacy organizations have been saying all along: racial discrimination still exists in the consumer finance industry, and we still need vigorous enforcement of civil rights laws to combat it. As President Trump and his allies continue trying to gut the Consumer Financial Protection Bureau, which already has only narrow authority under the law to address auto loan discrimination, they would be wise to read this report so they can see just where their deregulatory agenda would take us," said Vanita Gupta, president and CEO, The Leadership Conference on Civil and Human Rights.

"All communities of color are entitled to the same economic resources and opportunities that this nation has promised, but in many ways, has failed to deliver. Personal automobiles are necessary in most communities to access employment, education, health care, and many other essential services. By charging people of color more for their auto and financing, less disposable income is available for their household and family. It is also against federal law. The Equal Credit Opportunity Act should be better enforced," said Seema Agnani, Executive Director, National Coalition for Asian Pacific American Community Development (National CAPACD).

"For more than 100 years, the NAACP has worked to remove discriminatory barriers to equal protection and equal opportunity under law. This new report signals that our work is just as crucial today as it was in the early 20th Century. Everyone who believes in fairness and equality must add their voices and influence to end predatory lending and financial discrimination in auto loans and other financial services," said Hilary O. Shelton, Director, NAACP Washington Bureau and Senior Vice President for Policy and Advocacy.

"Achieving economic parity is a core goal for the National Urban League. These research findings are yet another unfortunate example that our work must remain vigilant if we are to truly attain equity. Charging people of color higher prices on a major consumer purchase is not only illegal, but outrageous and must be stopped," said Marc Morial, President and CEO, National Urban League.

"It is upsetting to find that in 2018, consumers of color are still facing discriminatory practices when making major financial purchases. Unfortunately, this is a familiar experience for many Latinos, one the community knows well after experiencing similar abuses in the years leading up to the foreclosure crisis. Being charged more for credit despite being financially qualified for better rates, especially on big-ticket items like a car, can have devastating impact on a family's monthly budget and financial stability. This report highlights the urgent need for continued oversight of the auto lending market and is especially timely given the recent attempts to weaken the Consumer Financial Protection Bureau's guidance that addresses discriminatory pricing in auto lending," said Lindsay Daniels, Associate Director, Economic Policy, for UnidosUS.
Key facts:
62.5 percent of the time, Non-White testers who were more qualified than their White counterparts received more costly pricing options.
On average, Non-White testers who experienced discrimination would have paid an average of $2,662.56 more over the life of the loan than less-qualified White testers.
75 percent of the time, White testers were offered more financing options than Non-White testers.
For more information, or to arrange an interview with a CRL spokesperson on this issue, please contact Ricardo Quinto at ricardo.quinto@responsiblelending.org.
Related Content