DURHAM, NC - Consumers who use Earned Wage Advance (EWA) and digital cash advance applications are taking them repeatedly, paying fees and so-called tips, and using the advances to cover basic living expenses, according to survey results released today by the Center for Responsible Lending (CRL). 
The survey, which asked consumers about their experiences with EWA and cash advance apps, found that 69% of respondents use the advances to cover food, transportation and housing costs. Over 60% of customers of MoneyLion, EarnIn, Brigit and Dave – so-called fintech lenders – took advances one to two times per week during a typical month. And the vast majority of respondents paid fees and tips for a product that is commonly advertised as free or that claims tips are paid by borrowers on a voluntary basis. 
"These digital cash advances are far from free and encourage repeat usage, troubling signs that they work like predatory payday lending," said Lucia Constantine, researcher at CRL. "Users are not taking occasional loans for special purchases, they are heavily relying on them for basic needs. We know that repeat cycles of high-cost lending, especially for low-wage workers, only make it more difficult to manage expenses over time. We need consumer protections to prevent lenders from stripping wealth from low-wage workers and struggling families under the veneer of high-tech innovation." 
California's financial regulator reports annual percentage interest rates (APR) of over 330% for cash advance apps, comparable to payday lending APRs. And research from the Government Accountability Office has found users of direct-to-consumer applications used the service an average 22 to 36 times per year.
The CRL survey found that most respondents took one or two advances per week from four top companies: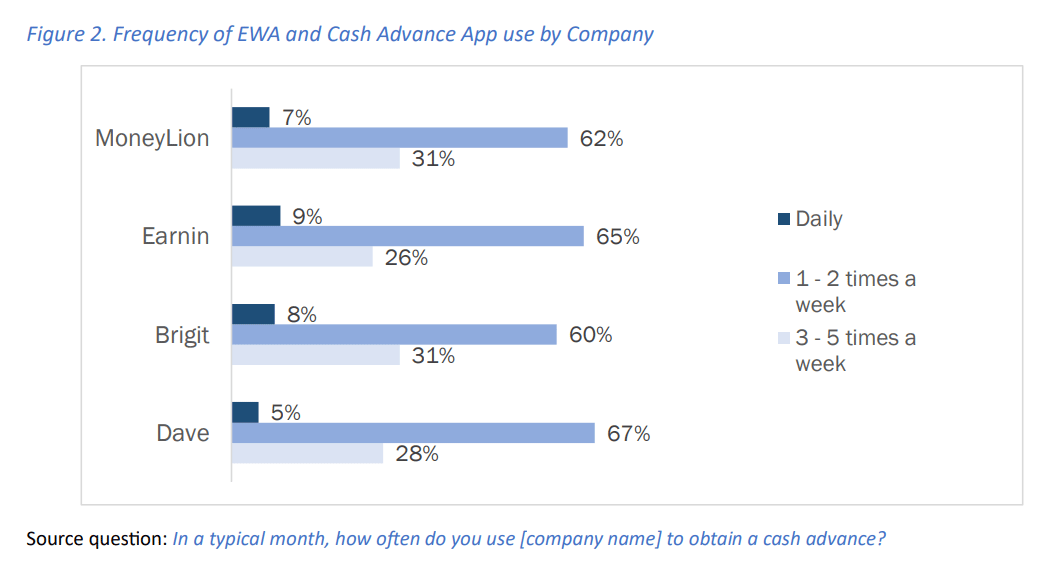 Despite claims from some companies that these advances are free, the vast majority of respondents paid fees and tips. Some fintech lenders imply leaving tips allows consumers to "pay it forward" to help other borrowers, when it's more likely they are simply corporate revenues. Digital cash advance companies often use pressure tactics to collect these tips, and a representative of EarnIn stated that tips make up 40% of the company's revenue.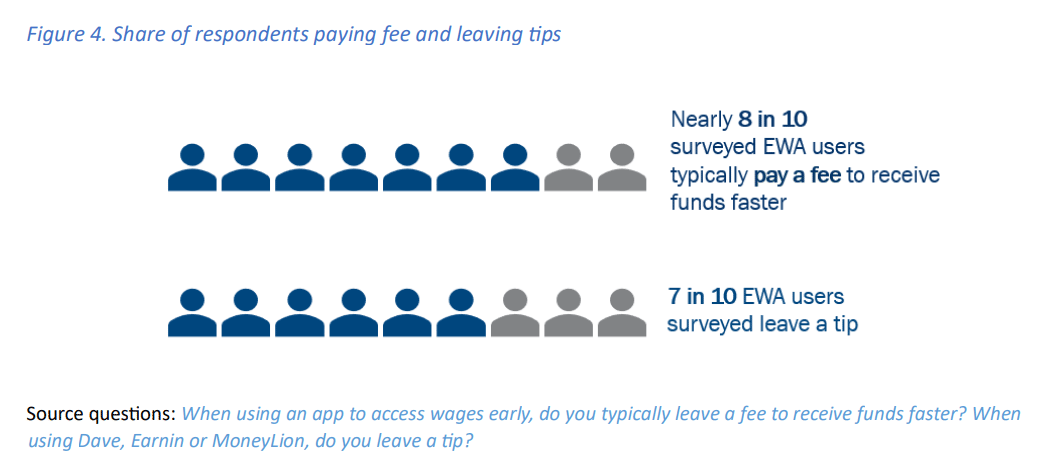 Digital cash advance companies are seeking codification of their business model in multiple states that would exempt them from consumer credit laws based on their claim that the advances are not loans. CRL recommends that state regulators and the Consumer Financial Protection Bureau treat these products as credit and affirm that "tips" are evasive attempts to disguise interest charges. 
Survey Summary of Earned Wage Advance and Cash Advance Apps 
###
Press Contact: Carol Parish carol.parish@responsiblelending.org
Related Content